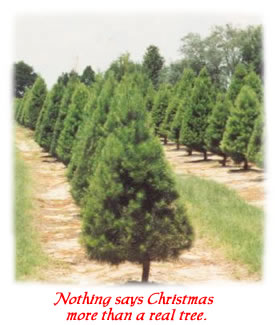 Keep your tree fresh and green - keep it in water…….
Keep your tree fresh, green and healthy, by making a fresh cut on the stem at least one fourth inch or more above the original cut. This will cut off the pitch which has formed and will enable the tree to take up water. After you have made the cut, immediately place your tree in a sturdy stand that will hold at least one quart of water for each inch diameter of the stem. Check the water supply regularly. Do not add anything to the water. Research has shown that plain water will keep your tree fresh. If the water supply runs out, a seal will form on the cut surface of the tree trunk which will prevent the tree from taking up water. If you follow these simple guidelines, your tree will stay fresh, green and moisture laden throughout your holidays.
Tree farms, beautifying Florida....Christmas tree farms thrive in cities and suburbs, as well as in more traditional rural areas. Christmas tree farms are not only pleasing to the eye, providing beautiful greenbelts; the growing trees also consume a huge amount of carbon dioxide and re-introduce large quantities of oxygen into the atmosphere, thus cleansing the air we breathe. Christmas tree farmers have made a conscientious effort over the years to enhance and to preserve the environment, planting trees on barren land where no other crops will grow, and where no trees have grown before.